Sold in pack of 6 or 8 15cl cans in the children's drinks department.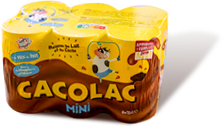 CACOLAC MINI - Milkchocolate drink
(15 cl can)
In small format, a 100% recyclable 15 cl can this format has all the assets to seduce children AND parents. Proof: the new can received the "Approved by Families 2018" award. Its good taste of chocolate milk and its playful design seduce children, and its simple composition, parents.
Milkchocolate drink at 10G MG/L sterilized
Ingredients :
Milk from France at 8g MG/L ( 92.1%), sugar, cocoa (1.2%), stabilizers : sodium acid carbonate, carrageenan.
A healthy and replenishing drink.
Provides ¼ of the AJR in calcium and phosphorus (AJR = Recommended Daily Intakes)
Nutrition facts (for 100ml) :
Calories
275kJ / 65 kcal
Total fat
1g
Saturated fat
0.5g
Total sugars
11g
Added sugars
11g
Protein
3g
Sodium
0.13g
Calcium
120 mg (15% RNV*)
Phosphorus
110 mg (16% RNV*)
*Reference nutritional value