Join us on Snapchat
@cacolacofficiel
Discover our range
The original Cacolac
A recipe that has been unchanged for 60 years,
combined with a unique manufacturing process
Fresh milk, straight from Lot-et-Garonne
The right amount of sugar
Cocoa, always from the same supplier for 60 years.
The delicious mixture is sterilized when packed.
A slow rise in temperature provides its unique texture and caramalized taste.
Our range
Our Bottles :
Original6,76 fl oz ( 200 ml )
Vanilla6,76 fl oz ( 200 ml )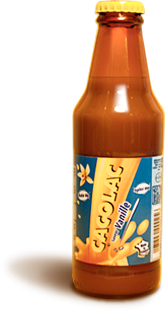 Chocolate Bio6,76 fl oz ( 200 ml )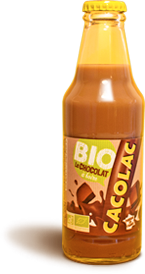 Bio Coffee6,76 fl oz ( 200 ml )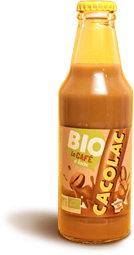 Our Cans :
Pocket Size5,07 fl oz( 150 ml )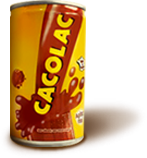 Hazelnut Praline6,76 fl oz( 200 ml )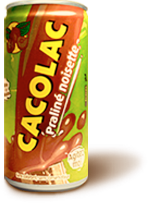 Caramel6,76 fl oz( 200 ml )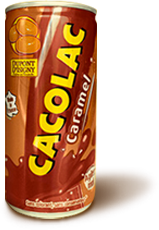 Original8,45 fl oz( 250 ml )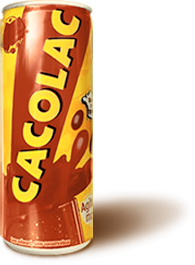 Did you know?
Did you know?
< Back to our range
Cocoa one day, cocoa forever!
Since 1954, the CACOLAC recipe has been followed to the letter. The flavour of yesteryear has crossed the years and remains secret. The quantity of cocoa gives just the right amount of bitterness. The unique taste comes from the sterilization time during which the sugar is transformed into caramel. This is called the "Maillard reaction"!
Always yummy
Cold or hot, or even iced... Enjoy your Cacolac any way you like !
It's good !
Cacolac is a health and energy drink. An ideal nutritional supplement, Cacolac is made from high quality milk and cocoa, and is good source of calcium, while low in fat (less than 1%).
An expert opinion
"Cacolac has very interesting properties that make it a beverage of choice for all. It is mainly recommended for growing children, adolescents facing high intellectual and physical demands, and adults doing sports."
Dr. Henry Dabadie, nutritionist at the Hospital of Haut-Leveque, Bordeaux.
Our history
2018
Cacolac in can is awarded by the label " Approuvé par les familles 2018 ": a label which rewards the best products and services for Kids
2017
Cacolac listening his consumers launch 2 new organic products : the chocolate to be drunk and a new coffee milshake ready to drink
2015
Cacolac joins Dupont d'Isigny to create a tasty recipe for Caramel CACOLAC
2014
Cacolac turns 60, revamps its entire range, and launches a new flavour chosen as the Taste of the Year 2014 : The hazelnut praline
2012
A recipe book is produced.
2005-2006
Cacolac launches its product in a carton, in partnership with Danone.
2000
Cacolac opens its new plant in Léognan. This IFS-certified Grade A factory now produces the full CACOLAC range.
1992
Inspired by the sea air, Cacolac sets sail with the skipper Yves Parlier and sponsors him. He wins the Transat Jacques Vabre and the Route du Rhum.
1980
Cacolac innovates: it now becomes available in cans. Cacolac introduces the slim 25 cl can.
1978
The drink company opens a new factory at Bordeaux on the site of the Benauge, on the right bank of the Garonne, which remains famous for its imposing sterilization tower. The drink also arrives in grocery stores.
1971
The queen of chocolate drinks arrives in the big leagues by launching its first television advertising campaign.
1970
Cacolac continues to emphasize the authenticity of its product, retaining its glass bottles even though milk cartons become the norm. That same year Cacolac gives its name to the company.
1954
Cacolac embarks on its conquest of France, in vans criss-crossing the country.
1952
Robert Lauseig has the idea of ​​combining milk and cocoa after returning from a trip to Holland: The CACOLAC cult recipe is born.
1947
Robert and Charles Lauseig Lanneluc create the Dairy of la Benauge, in Bastide near Bordeaux.
Cacolac
TODAY CACOLAC IS SOLD THROUGH ALL DISTRIBUTION CHANNELS.
Retail - cafes, hotels, restaurants - service stations etc… throughout French territory.
It is an independent family business, constantly innovating, and has an active social network.
74%
of French People
know us
Top 50
Favorite Brands
in France
The recipe has remained unchanged since 1954.